Torsion Spring Manufacturer in India Mumbai
We are one of the leading Torsion Spring Manufacturer in India Mumbai. We are listed among top manufacturers, exporter and suppliers of Torsion Springs, Door Torsion Springs, Helical Torsion Spring etc across the globe. Torsion Springs manufactured by us are of Endurance forces such as twist, rotation, lateral and angular has made the Torsion Spring ideal for various industrial applications. The use of optimum quality raw materials in the manufacturing of the Helical Torsion Spring ensures high durability, tensile strength and resistivity to adverse conditions. Additionally, customers are eased with the availability of the Flat Spiral Torsion Spring in varied sizes and dimensions meeting the specific requisites.
What is Torsion Spring?
Torsion springs that deflect torque rotationally, torsion springs express mechanical energy through the property of elasticity the spring action happens when it is twisted rather than compressed or pulled. Despite the name, torsion springs are subject to bending stress not torsion as the torque is carried through the length of the wound material. The spring coil's diameter reduces and the body length increases as the legs (work points) of the spring are deflected.
Torsion Spring exert force in a circular arc in which the arms rotate about a central axis. The stress is in bending. In the spring industry it is customary to specify torque with deflection or with the arms at a definite position.
Torsion Spring, Double Torsion Spring, Torque Coils and Clutch Torsion Springs are used to apply torque or store rotational energy. Torsion Springs, Torque Coils and Clutch Torsion Springs are generally mounted around a shaft and must be supported at three or more points. Various kinds of ends are available to facilitate mounting. These parts can be manufactured from round, square or various shaped material cross sections.
Torsion springs are utilized in a wide range of items that are utilized always for the duration of regular day to day existence. Regular employments of torsion springs incorporate; clipboards, attire pegs and carport entryways. Since they are intended to oppose rotational power, torsion springs are the ideal spring to be utilized in pivots and balances. Smaller than normal torsion are ordinarily utilized in electronic gadgets, while bigger plans are frequently utilized in processing plant/industry machine and seat control units.
TORSION SPRING CONFIGURATIONS: Short hook legs, Straight offset legs, Stright torsion legs, Bent legs, Double torsion.
TORSION SPRINGS SECONDARIES: Stress relieve, eat treating, Passivation, Shot peening, Painting, Plating.
Material used in manufacturing Torsion Springs
Carbon steels, Stainless steel 302, 304 and 316, Alloy steels, Inconel 600, 718 and X750, Phosphor bronze, Hastelloy
Uses of Torsion Spring
clipboards, tailgates, clothes pins, garage doors, hinges, electronic devices, chairs etc
Our Range Of Torsion Springs
<!末rl末>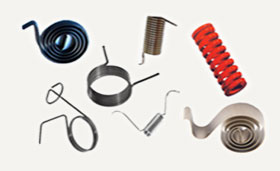 <!末rl末>
<!末rl末>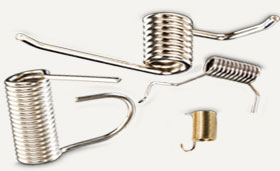 <!末rl末>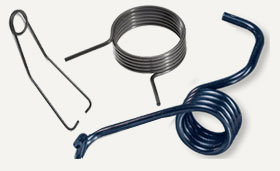 <!末rl末>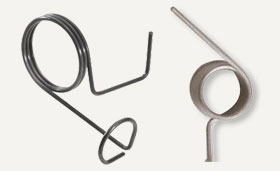 <!末rl末>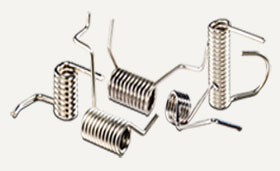 <!末rl末>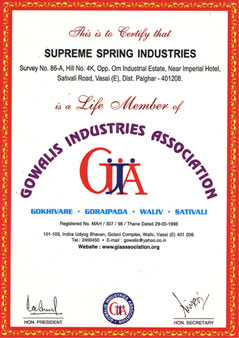 one stop destination for all type of Torsion Springs
Better Thinking Better Quality
Address
Supreme Spring Industries
Survey No 86 A, Hissa No.4K,
Opp. Tirupati Udyog Nagar,
Sativali Road, Vasai (E),
Palghar, Maharashtra-401208 INDIA.
Contact No.
Mobile No.
+91-9422482912
+91-7774017707