Tension Spring Manufacturer in India Mumbai
Our company is looked amongst the prominent Tension Spring Manufacturer in India Mumbai. As a leading Exporters & Suppliers and Manufacturers of Tension Springs, we exported tension spring world wide. The raw materials used in the manufacturing of the Spring ensure high durability, tensile strength and resistivity to tensioning forces or pulling forces. The same has also made the Spring ideal for applications in automobile, furniture, hardware and other areas. Additionally, customers are eased with the availability of the Flat Tension in varied sizes and dimensions as per the specifications and drawings provided.
What is Tension Spring?
Tension springs are tightly wound coils that are designed to operate with tension. Stretches to a specific length as the load/force is applied to it. In an unloaded position, the loops of the spring are touching, with either a loop or hook attached at one end, and it is when this attachment is directed with force that the spring stretches. When these components are pulled apart, usually from either side, it is tries to hold itself together, causing the springing action, until the force is stopped and it can return to its original form. Flexibility is particularly important if the springs is fitted to an application where it needs to be compressed beyond the size of its original form. Having the flexibility to bend a little bit will prevent that spring from causing a malfunction. End loops or hooks are shaped on either end of a tension so that it can be attached to the components that it will work in conjunction with. If any of the coils in the tension spring are damaged, it will not be able to return to its original shape.
Uses of Tension Spring
Tension Spring are used in trampolines, push and pull levers, garage doors, rocking horses, screen doors, and anywhere else extended force is necessary. You can find small, micro, large, heavy duty extension springs. Extension can also be used as belts (Garter, Snakes, and Drain Cleaners). Snakes are extension without hooks. On snakes the coils are tightly wound together to give initial tension, and its long length allows it to make its way through the maze of the pipe it is unclogging.
MATERIAL USED IN MANUFACTURING TENSION SPRING
Alloy steels, Stainless steel 302, 304 and 316, Carbon steels, Hastelloy, Phosphor bronze, Inconel 600, 718 and X750
END CONFIGURATIONS OF TENSION SPRINGS: Crossover center hooks, side hooks, Center hooks, threaded inserts, extended hooks, machine loops
SECONDARY PROCESS OF TENSION SPRINGS: Stress relieve, Heat treating, Passivation, Plating, Painting
Our Range Of Tension Springs
<!末rl末>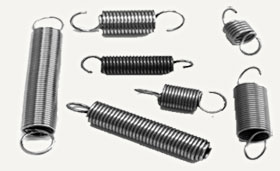 <!末rl末>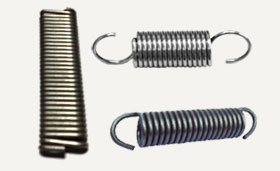 <!末rl末>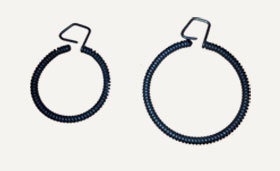 <!末rl末>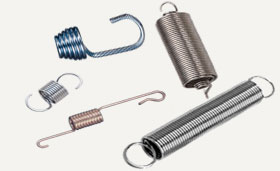 <!末rl末>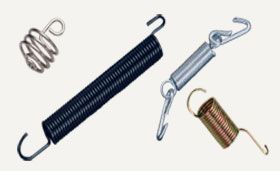 <!末rl末>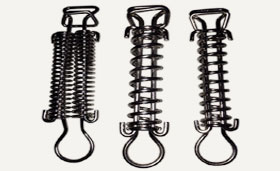 <!末rl末>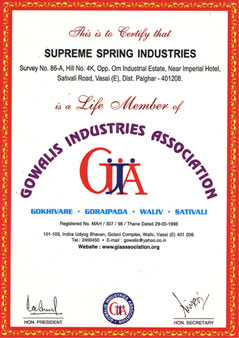 one stop destination for all type of Tension Springs
Better Thinking Better Quality
Address
Supreme Spring Industries
Survey No 86 A, Hissa No.4K,
Opp. Tirupati Udyog Nagar,
Sativali Road, Vasai (E),
Palghar, Maharashtra-401208 INDIA.
Contact No.
Mobile No.
+91-9422482912
+91-7774017707