About Us
Supreme Spring Industries is An ISO 9001 - 2008 Company
Supreme Spring Industries are manufacturers of different types of coil springs, Disc springs, Compression Spring, Tension Spring, Wire Form Springs, Torsion Spring, Disc Spring, sheet metal components manufacturer, Conical Springs, Helical Spring, Spiral Springs, Flat Spring, Arm Spring, Extension Spring as well as spring clips. We are manufacturing springs from 0.15 mm to 3.2 mm wire dia. directly on an automatic coiling machine and upto 16 mm wire dia. springs. We are well convenient with the spring manufacturing activities. We are also able in making Sheet Metal Components.
"Supreme Spring Industries is committed to maintain it's position as a leader with customer satisfaction as primary focus of the organization. We will provide quality spring product & highest standard services to our customers through continual improvement in our quality management system."
Never complacent with its achievement the company is pressing ahead to achieve its goal of joining the India's eligible spring manufacturing companies.
Backed by very skilled technical staff with varied experienced in this field.
Leading Manufacturer in Mumbai India of :-
1. Compression Spring
2. Tension Spring
3. Wire Form Spring
4. Torsion Spring
5. Disc Spring
6. Sheet metal components manufacturer
7. Conical Spring
8. Helical Spring
9. Spiral Spring
10.Flat Spring
11.Arm Spring
12.Extension Spring
<!––rl––>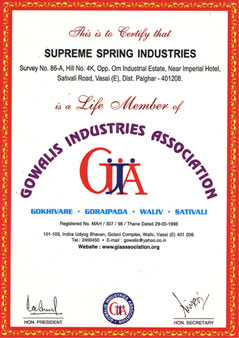 one stop destination for all type of springs
Better Thinking Better Quality
Address
Supreme Spring Industries
Survey No 86 A, Hissa No.4K,
Opp. Tirupati Udyog Nagar,
Sativali Road, Vasai (E),
Palghar, Maharashtra-401208 INDIA.
Contact No.
Mobile No.
+91-9422482912
+91-7774017707