Compression Springs Manufacturer in Mumbai India
We are one of the top Compression Springs manufacturer in India Mumbai. Our experience of 2 decades in the field of manufacturing compression springs, Helical Compression Springs, Straight Compression Springs, Conical Compression Springs, Concave Compression Springs, Barrel Compression Springs has helped us build up a respected place in market. We have Exported and Supplied Compression Springs to various national as well as International clients, who regularly place bulk export orders for the Custom Compression Springs due to the unmatched quality and unsurpassable performance in respective applications. The use of premium quality raw materials in the manufacturing of the Automotive Compression Springs ensures availability of no alternative in the market. High durability, tensile strength and resistivity to adverse condition has also made the springs ideal for industrial applications.
Compression springs are springs made from helical shape coils with pitch in between used to keep off on an carried out force or load as a way to return to its unique position while the force or load is launched hence it is also called Helical Compression Spring, they are the most generally used sort of spring in addition to the most low-priced. there are many types of compression springs used to satisfy positive capabilities for plenty programs, devices, and/or mechanisms.
you may discover several compression spring sorts within the mechanism of any machine or device. you might also find them in devices or mechanisms that perform through buttons and such; the spring can be positioned in the back of the button to ensure the button returns to its original function after being released. you'll also discover compression springs within the car enterprise used for the suspension of your automobile.
As you've seen mentioned above, there are many compression spring uses but the listing doesn't prevent there, you can find these springs almost anywhere. From a ballpoint pen or a notebook to a machine or a clinical device. The specific kinds of compression springs are magazine compression springs, conical compression springs, barrel compression springs (convex and concave), and you may additionally locate torsional compression springs which fulfill two functions by using exerting a vertical pressure as well as a rotational pressure.
CONFIGURATIONS: Hourglass, Conical, Cylindrical, Barrel, Closed ends, Reduces ends, Open ends, Ground ends, Underground ends, Constant pitch
SECONDARIES: Stress relieve, Heat treating, Passivation, Shot peening, Plating, Painting, Grinding, Powder coating
MATERIALS: Alloy steels, Stainless steel 302, 304 and 316, Carbon steels, Hastelloy, Phosphor bronze, Music wire, Inconel 600, 718 and X750
MANUFACTURING CAPACITY - We have capacity to manufacture Helical Compression Springs, Compression Springs, Straight Compression Springs, Conical Compression Springs, Concave Compression Springs, Barrel Compression Springs etc. of 0.15MM TO 50.0MM.
Our Range Of Compression Springs
<!––rl––>
<!––rl––>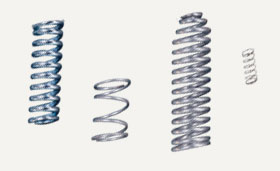 <!––rl––>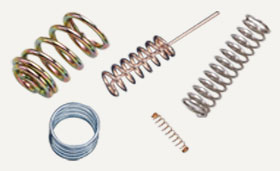 <!––rl––>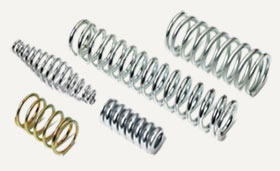 <!––rl––>
<!––rl––>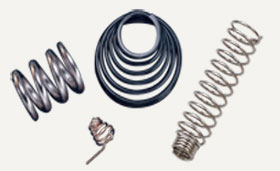 <!––rl––>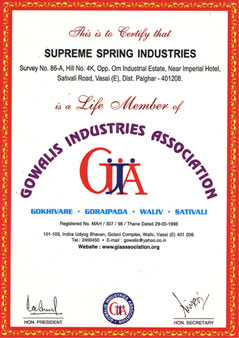 one stop destination for all type of Compression Springs
Better Thinking Better Quality
Address
Supreme Spring Industries
Survey No 86 A, Hissa No.4K,
Opp. Tirupati Udyog Nagar,
Sativali Road, Vasai (E),
Palghar, Maharashtra-401208 INDIA.
Contact No.
Mobile No.
+91-9422482912
+91-7774017707