Disc Spring Manufacturer in India Mumbai
We are renowned Disc Spring Manufacturer in India Mumbai and leading Exporter, Supplier and Manufacturers from India for Industrial disc spring that are manufactured using finest quality steel. The matchless performance and high level of durability are some of the salient features that make these Disc spring high in demand.
The Disc Springs offered by us is manufactured using high grade steel that offers a well-developed solution to various engineering problems, also the use of computerized designing programs ensures that the Ball Bearing Disc Springs are manufactured as per the exact specifications of clients. As distinguished Disc Spring Manufacturers, we ensure that the quality aspect is strictly adhered to in all our manufacturing processes.
What is Disc Spring?
Disc Springs are narrowly framed precise circles, which are stacked the pivotal way. Disc Spring has a one of a kind blend of high power in less space with redid avoidance mixes. The Disc is a rakish circle like spring. It is a funnel shaped structured springs. The Disc are accepting the best answers for some designing issues. The Disc Springs are additionally called the washers. By masterminding them into stacked segments, the enormous measure of variable spring qualities can be accomplished. Disc Spring has an exceptional component to be utilized separately, or in stacks, to accomplish an ideal burden and travel. The key advantage of this spring is that it can create high power in a short spring length and with negligible development when packed.
Disc Spring is a kind of spring that keeps the jolt joint in uncompromising stance under all conditions. It has the advantage of making high power at ostensible development and in short system length while it is compacted. These are accessible in different determinations and sizes that draw in the purchasers of various businesses. These are likewise tweaked in various structures, sp as to satisfy the definite needs of customers. It use in different businesses like
USES OF DISC SPRINGS
Oil Industry, Petrochemical Industry, Food Processing Equipment, and so forth.
MATERIALS USED FOR MANUFACTURING DISC SPRINGS
50CRV4, Stainless steel 301, EN 47, The Ball-Bearing Disc spring comply with DIN 2093 and DIN 6796 in terms of quality and performance.
DISC SPRING SECONDARIES: Heat treating, Passivation, Shot peening.
Advantages of Disc Springs :
1. No Deformation or Fatigue under normal loads
2. High Energy Storage Capacity
3. Long Service Life
4. Stock keeping is minimized as the individual spring sizes can be combined universally
5. Space Saving
6. Largely Self-damping, giving good shock absorption and energy dissipation
7. Efficient use of space and high spring force with small deflections
8. Adaptable to stacking in numerous configurations
9. Combination use as a modular spring element
10.Low Maintenance cost
11.Greater Security
Our Range Of Disc Springs
<!––rl––>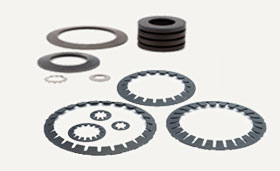 <!––rl––>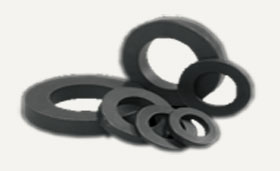 <!––rl––>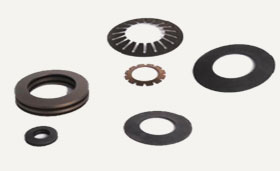 <!––rl––>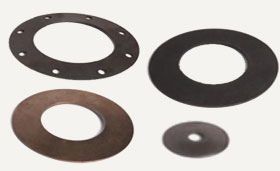 <!––rl––>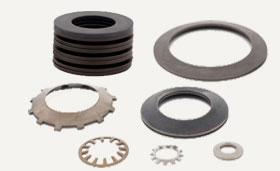 <!––rl––>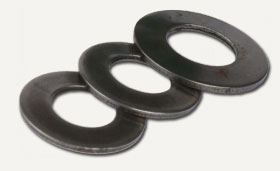 <!––rl––>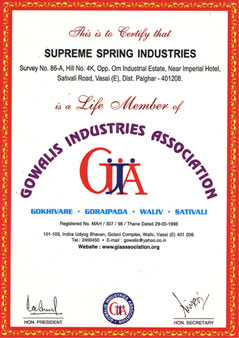 one stop destination for all type of Disc Springs
Better Thinking Better Quality
Address
Supreme Spring Industries
Survey No 86 A, Hissa No.4K,
Opp. Tirupati Udyog Nagar,
Sativali Road, Vasai (E),
Palghar, Maharashtra-401208 INDIA.
Contact No.
Mobile No.
+91-9422482912
+91-7774017707