one - stop destination for all type of springs
Better Thinking Better Quality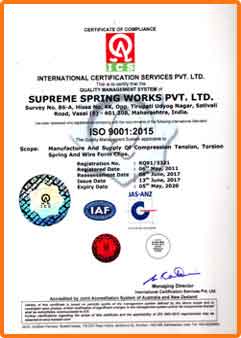 Supreme Spring Works - ISO 9001-2008 Company
Industrial Compression Springs, Tension Torsion Springs Manufacturer in India Mumbai
Supreme Spring Works Pvt Ltd is a leading Industrial Spring Manufacturer and Supplier in India, Mumbai for Compression Spring, Coil springs, Disc springs, Tension Spring, Wire Form Springs, Torsion Spring etc. We are renowed exporter, manufacturer and supplier of different types of Industrial Springs to places like Dubai, UAE, USA, Europe for Compression Spring, Coil springs, Disc springs, Tension Spring, Wire Form Springs, Torsion Spring, Disc Spring, sheet metal components, Conical, Helical, Spiral, Flat Spring, Arm and Extension Spring using latest Spring making Technology. We are manufacturing springs from 0.15 mm to 3.2 mm wire dia. directly on an automatic coiling machine and upto 16 mm wire dia. We are well convenient with the spring manufacturing activities. We are also able in making Sheet Metal Components.
Our array of high performing quality products are manufactured using best quality and technology, our commitment to supply premium quality goods remains unaltered as we are highly concerned about our customers' requirements and complete satisfaction.
With state of the art manufacturing facilities at our Industrial Unit are properly fitted with the latest manufacturing machines and equipments. The qualified manpower and professional are always ready to give a high quality output. All our springs have High durability, tensile strength and resistivity to adverse conditions.
Infrastructure - The state of the art manufacturing facilities and latest manufacturing machines and equipments has made us a prominent spring manufacturer in India Mumbai, Spread in an area of 650 sq having a capacity of installation of 1000 units. Apart from technologically advanced tools and machineries, Our designing lab is also loaded with best precision and testing tools that have made us competent to in designing and developing Industrial Springs that meet in the specifications and drawings provided by clients.
Quality Assurance - Strictly adhering to the ISO 9001:2008, we source the raw material like Spring Steel Wire of Grade II, Grade III as per IS 4454 part 1, stainless Steel Wire of Grade 1 from well reputed vendors.
Team - We are backed with the support of diligent team, working for the upbringing of the company in the toughest market conditions. The Team Members are provided with frequent training sessions to make them competent to understand the demands of the market. Various national as well as international clients are placing bulk orders for the Custom Compression, Tension, Torsion and Helical Spring etc due to the unmatched quality and unsurpassable performance in respective applications. The use of premium quality raw materials in the manufacturing of the Automotive Compression Springs ensures availability of no alternative in the market.
We represent considerable experience in offering an extensive variety of Tension and Torsion springs. Our Spring products are know for quality and efficiency in India. These items are known for quality and productivity. Utilizing most recent preparation methods empower us to offer tough items in cash turning costs.
Address
Supreme Spring Works Pvt. Ltd.
Survey No 86 A, Hill No.4K,
Opp. Tirupati Udyog Nagar,
Sativali Road, Vasai (E),
Palghar, Maharashtra-401208 INDIA.
Contact No.
Mobile No.
+91-9422482912
+91-9226522262
Telephone
+ 91 - 250 - 6417707
+ 91 - 250 - 3248190